Metuchen writer discovers his family's 'Legacy of Madness'
By Amy Kuperinsky/The Star-Ledger
Tom Davis was no stranger to mental illness.
He had written about it, lived it, and in the face of inevitable taboo and misunderstanding, talked to many about it as a columnist for a daily newspaper.
Yet when his father cryptically told him to visit a cemetery, he uncovered the fact that his great-great-grandmother, Lydia Winans, then 79, and her son, Frederick, 61, both died the same October day in 1928.
Scrolling through microfiche, Davis found a front page from the now-defunct Elizabeth Daily Journal in which the headline reporting his family's double-suicide loomed larger than one about the World Series: "WOMAN, SON, DOG, ARE FOUND DEAD OF GAS IN HOME."
They had both died from asphyxiation.
Davis, 44, delves further into his family's history in his first book, "A Legacy of Madness: Recovering My Family From Generations of Mental Illness" (Hazelden, $14.95), published in September.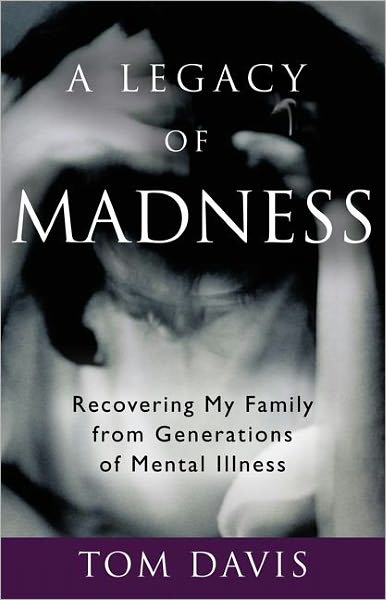 As a reporter, the Point Pleasant native knew that single suicides weren't often covered, but that the deaths in his family were bound to be big news, even more than 80 years ago. He had spent five years writing a column called "Coping" for the Record newspaper in which he covered stories that related in some way to mental illness, including how people were coping with the fallout of Sept. 11. His work got the attention of former Gov. Richard Codey as well as former first lady Rosalynn Carter, who presides over the Rosalynn Carter Fellowships for Mental Health Journalism. Davis was a Carter Center fellow from 2004 to 2005.
Now living in Metuchen with his wife and three children, he works as an editor for the online local news website Patch.com and is an adjunct journalism professor at Rutgers University in New Brunswick. Davis also frequently writes stories about mental health for the Huffington Post. Ask him about mental illness, and he'll openly talk about his treatment for eating disorders and self-destructive thinking.
Before then, even, Davis had plenty of experience with coping. His mother Dorothy's daily life was colored by what Davis calls a Howard Hughes-level of obsessive-compulsive disorder. "Dede" washed her hands constantly and brought wet wipes to restaurants. Davis remembers how the tall piles of wipes would often fall to the floor, an image that became his mother's calling card. She'd also seal cookie jars with electrical tape and fixate on going to the bathroom.
Davis often wondered about his mother's odd behaviors, but in a way, they were the norm for his family.